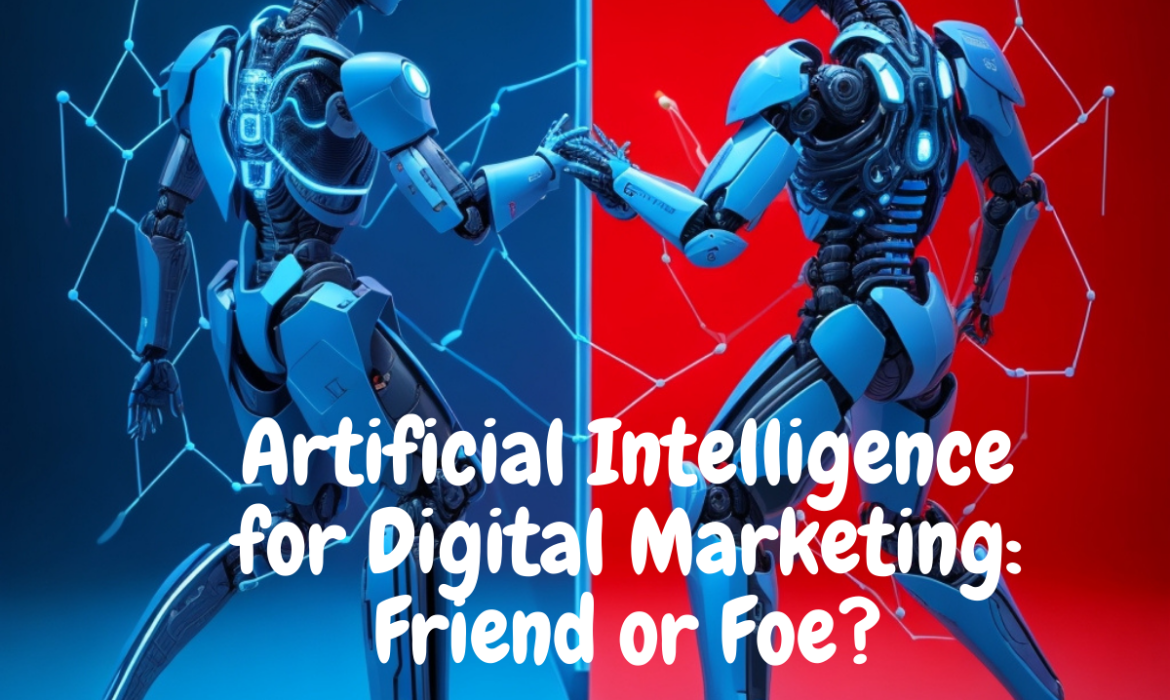 Artificial intelligence in sales and marketing? Hello everyone from different parts of the world, from Barcelona to Mexico, from the United States to Taiwan. Welcome to our Masterclass on Artificial Intelligence! A topic that has seized our attention and filled our recent conversations.
Artificial Intelligence for Digital Marketing: Friend or Foe?
Lately, there's been a lot of buzz around Artificial Intelligence and its applications in various fields, from technology to social media. But how does Artificial Intelligence impact Digital Marketing? Is it a friend or a foe? In this Masterclass, we'll delve into this intriguing topic and understand why it's more of a friend than a foe.
Today, we're joined by Jose Asturias, a leader in the digital marketing world. We're thrilled to have him here with us to discuss the impact of Artificial Intelligence on Marketing.
Jose will share valuable insights and practices of Artificial Intelligence that you can start applying immediately in your marketing strategy. His goal is for you to apply at least 5% of what you learn today in your work or project tomorrow.
Artificial Intelligence in Marketing: More than a Trend
When we think about Artificial Intelligence, we often picture machines doing human jobs. But Artificial Intelligence goes beyond that. With its computational power, it can handle, store, and interpret vast amounts of information, something humans couldn't possibly do. In marketing, this data understanding is crucial and is one of the great benefits of Artificial Intelligence.
The population is divided between those excited by Artificial Intelligence and those who fear robots taking over our jobs. In our view, there's a middle ground. We believe Artificial Intelligence offers a great opportunity to enhance our marketing. Yes, it'll be different, but it will definitely be better.
Applying Artificial Intelligence to Digital Marketing
How does AI affect marketing? Artificial Intelligence goes beyond simple marketing tasks. As we get to understand AI a bit more, we can see how it influences our relationship with people and the interpretation of historical data. Thanks to AI, we can now visualize what ancient cultures and tribes were like based on past data interpretation. This is utterly fascinating.
Let's not forget, AI also allows us to make bold and creative interpretations, like a 'selfie' of the first moon landing.
Evolution and Disruption: A Look at the Past and Present
How real is digital marketing? Let's rewind 24 years to the birth of Google. Back then, Google was a basic search engine: you entered words, and it returned results. But something we often overlook is that the essence of Google remains the same even in 2023, just like ChatGPT, one of the most well-known artificial intelligences.
Both systems, Google and ChatGPT, interpret information and present it in different ways. But, at the end of the day, the essence of both platforms remains the same.
The AI Adoption Explosion Speaking of ChatGPT
This astounding system has broken all records by reaching 100 million active users in just two months. This is a remarkable achievement, especially considering that the previous record was held by TikTok with nine months.
The Key to Unlocking AI's Potential: Prompt Engineering
To many, the word 'engineering' may sound complex or intimidating, but fear not! Prompt engineering, a key aspect when working with ChatGPT, is not as complicated as it seems. However, it does require a conscious effort to learn and continually improve.
Mastering this discipline largely depends on us and how quickly we can advance on that learning curve.
To effectively use AI in marketing, we must follow three steps. First, we must start with clear expectations. For example, ChatGPT, like Google, interprets and presents web data differently. However, it's important to understand that ChatGPT does not "understand" the material, it simply reinterprets it.
The second step is knowing how to ask. We must provide appropriate context to ChatGPT for accurate results. Incorrect results can lead to failed marketing campaigns.
Finally, we need to understand the importance of 'Prompt Engineering' – essentially, the ability to ask effective questions to the AI. Crafting a good 'prompt' is the difference between getting a relevant result and a mediocre one.
Learning from Experience: The Importance of Iteration
Like any other skill, mastering prompt engineering is an iterative process that requires practice and continuous improvement. It's essential to remember that marketing and AI are constantly evolving, and we must evolve with them.
The Starting Point: The Creative Phase of the Process
Currently, the greatest power of artificial intelligences like ChatGPT lies at the beginning of the creative process, not at the end. Thus, instead of asking ChatGPT to draft a complete article about the best Facebook KPIs, for example, the most effective strategy would be to ask specific questions that help us generate ideas and outlines for our content.
Therefore, ChatGPT becomes a creative engine that drives our marketing, and the final content is the product of our human work and creativity.
ChatGPT: A Formula 1 in the World of Marketing
If we think of ChatGPT as a car, it's not just any car! It's a super car, a Formula 1 in terms of technology. But, like a Formula 1, we need to learn to drive it to take full advantage of its potential.
The value of ChatGPT, like any tool, is not in the tool itself, but in how we use it.
Multiple Uses of Artificial Intelligence for Digital Marketing
AI offers a wide range of applications in marketing, from creating highly personalized marketing campaigns to automated customer interactions through chatbots. It also allows for sentiment analysis on social media, content idea generation, market research, and developing content for websites, landing pages, and product descriptions, among others.
AI can also enhance user experiences both online and offline and can play a pivotal role in automating various processes.
Artificial Intelligence Marketing examples
Today, there are countless AI tools available. Some even offer free versions. If you're like me, setting aside time each day to test new AI tools, you'll soon discover which ones work best for your specific needs.
Two of the most impressive tools I've tried so far are Riter and MyJourney. Riter is excellent for generating content ideas, call-to-actions, and social media strategies, among other things. You can customize your content requests in detail, specifying the topic, keywords, tone, viewpoint, and even language.
MyJourney, on the other hand, is an amazing tool for image creation. By simply providing a prompt, MyJourney can generate high-quality images in seconds. This could represent a substantial time and resource savings.
It's important to emphasize that these tools are not intended to replace human work, but rather facilitate it and improve efficiency.
Artificial Intelligence and Marketing pitfalls and opportunities
Artificial Intelligence and Marketing pitfalls and opportunities? Ultimately, AI has the potential to make our marketing work more effective and efficient. Through strategic use, we can better identify the needs and desires of our target audience, formulate smarter goals, create more effective strategies, improve our customer relationships, and ultimately, boost our profits.
Data Analysis with Artificial Intelligence
In a world overwhelmed with data, sometimes we need a life preserver. And that's precisely what AI can provide. We can start with something as simple as data analysis from a spreadsheet or PDF.
Take, for instance, the tool "Chat with Any PDF". You can upload a PDF with data, and then ask questions about that document. Even if you have a 300-page document, this tool can answer your queries instantly. Want to know how many transactions were made in March? Boom. It gives you the answer in seconds.
It's important to note, however, that this tool has its limitations. It doesn't interpret or cross-reference data; it merely "regurgitates" the information contained in the document. But it's a first step towards data analysis automation.
Creating 3D Models with AI
Now, what if you're interested in 3D design? AI has got you covered there too! With the 3dfi tool, you can request the creation of 3D models, like a golden fork. Voila! You'll have a detailed, interactive, high-quality model ready to explore.
Optimizing Digital Advertising
If you're looking to optimize your ad campaigns, there are AI tools designed for that. They can help you interpret your campaign data, identify patterns, and improve your advertising strategies. With their help, you can achieve more conversions and reduce cost per conversion.
Creating Virtual Avatars
An emerging trend is the creation of virtual characters or avatars for brands and influencers. With AI, you can generate faces of people that don't exist and give them voice. There are even tools that can combine these two features, creating virtual avatars with voice and motion.
AI and Product Usability
AI can also lend a hand in product design. It can help us avoid usability mistakes, like the infamous Apple mouse that requires flipping over to charge. By integrating AI into the design process, these problems can be identified and corrected before they reach users.
Improving Writing
AI can help us enhance our writing. If you make grammatical or spelling mistakes, there are AI tools that can automatically correct these errors. No more emails or texts with errors that can harm your professional image.
Artificial Intelligence for Marketing practical applications
Automation alone can lack intelligence, but by integrating AI, we give it the ability to understand contexts and make informed decisions. Let me illustrate this with a real-world example that happened on Twitter a few years ago. A user asked BBVA Bancomer: "Can I deposit to an account if I only have the card number?" The automated system response was: "Hello, Desgraciada, thanks for contacting us." Sounds a bit rude, right? But here's the key: the person's username was "Desgraciada," and the automation took it literally to personalize the message. While technically correct, a human would have interpreted that username differently. That's where AI can help enhance automation, understanding, and adapting to context.
Ethics in Artificial Intelligence: A Personalized Matter
Ethics, as we know, can be relative and a subject of intense debate. Each one of us has our own perceptions of what's right and what's wrong. When we bring this to digital marketing and social media, we may face a lot of criticism if we don't consider different ethical perspectives. Fortunately, AI can help us avoid these situations through hyper-personalization, showing each user content that they are likely to find appropriate and avoiding what might offend them.
The Value of Marketing and Provocation
Despite the tools and advantages AI offers, we can't forget the true art of marketing: provocation. To provoke, to generate attention, is the essence of internet marketing. But attention should be selective, and that's where AI can help us. With its assistance, we can avoid offending those who are likely to react negatively to certain content, and instead, show them something more in line with their interests and viewpoints.
AI as a Time-saving Tool
AI not only enhances the quality of our marketing actions but also allows us to accomplish more in less time. For example, I can mention the Gamma tool, which can generate a PowerPoint presentation in minutes. Are you stuck and unsure where to start your presentation? AI can be a helping hand in the creative process.
Companies using Artificial Intelligence for marketing
Did you find yourself in awe of the tools mentioned during the presentation? You're not alone! AI gives plenty of food for thought, doesn't it? This is a topic that sparks endless reflections. Some of you see AI as a virtual assistant, some perceive it as a threat to jobs, and others see the potential of AI as a tool to enhance our lives and work.
The Great Debate: Is AI Negative or Positive?
The million-dollar question: Is AI harmful or beneficial to us? Is it optimistic to think that we'll always need the human touch in everything? Personally, I fall on the positive side. I'm one of those who believe that if you can't fight something, join it! AI is advancing, whether we like it or not, so it's smartest to learn how to incorporate it into our lives and work.
Content Creation and AI
For the content lovers, you may have wondered if there are tools for creating video content, like Instagram Reels, automatically. The answer is yes.
The Brand and AI: Will We Lose the Essence?
One question that has come up is if by allowing AI to take over everything, aren't we risking losing the essence of a brand? To me, AI is at the beginning of the creative process, and we humans still need to contribute. However, this is a subjective discussion, and the essence of a brand can also be defined by artificial intelligences.
Learning and AI: Are We Ceasing to Learn?
Some of you have asked if by letting AI do all the work, aren't we ceasing to learn? In my view, AI tools are just that, tools. They are meant to facilitate our work, not replace it. We should learn to work with AI, not depend on it.
To all digital marketing enthusiasts, I encourage you to dedicate at least 15 minutes every day to learn something new. Training should be integrated into our daily work routine.
Remember: we are always exploring new tools and techniques to be more efficient and creative. No matter how much technology changes, our love for learning and digital marketing will always push us forward.
Until next time, digital marketing enthusiasts! I'll see you in the digital world, where learning never stops. Onward!
FAQ: Artificial Intelligence in Sales and Marketing
How can AI be used in marketing and sales?
AI can be used in marketing and sales to analyze customer data for insights, predict customer behavior, personalize customer interactions, automate repetitive tasks, improve customer service, and optimize pricing strategies, among other applications.
How is the sales and marketing field benefiting from AI?
AI is helping sales and marketing professionals to make more informed decisions, improve efficiency, personalize customer experiences, predict future trends, and increase sales and conversions.
What is the use of artificial intelligence AI in marketing?
AI is used in marketing to enhance customer segmentation, automate customer interactions through chatbots, optimize advertising campaigns, predict customer behavior, and provide personalized recommendations, among other things.
How will AI impact marketing?
AI will make marketing more efficient, data-driven, and personalized. It will also enable marketers to predict consumer behavior and trends, automate repetitive tasks, and deliver better customer experiences.
How AI will change the future of marketing?
AI will change the future of marketing by driving more personalized and predictive marketing, automating many routine tasks, improving customer understanding through data analysis, and enabling more effective use of marketing resources.
Is AI going to replace digital marketing?
AI is not likely to replace digital marketing but will instead enhance it. AI can automate certain tasks, provide valuable insights, and improve personalization, but the human touch in creative strategy and understanding emotional nuances remains irreplaceable.
How will AI impact marketing in 2023?
In 2023, AI will enable more personalized marketing, predictive analytics, voice and visual search, advanced customer segmentation, and improved ad targeting, among other advancements.
What are the trends in AI marketing?
Trends in AI marketing include personalization at scale, predictive analytics, AI chatbots, voice search optimization, machine learning in ad targeting, and AI-driven content creation.
How to use AI in digital marketing?
AI can be used in digital marketing to analyze customer data, automate email campaigns, optimize ad targeting, create personalized content, implement chatbots for customer service, and enhance SEO strategies.
What is AI in retail industry trends?
AI trends in the retail industry include personalization, predictive analytics for demand forecasting, virtual shopping assistants, automated inventory management, and chatbots for customer service.
Which is the biggest market for AI?
As of my knowledge cut-off in 2021, the biggest market for AI was North America, followed by Europe and Asia-Pacific.
How much of marketing is AI?
The extent of AI integration in marketing varies across companies. However, an increasing number of businesses are leveraging AI for tasks such as data analysis, automation of tasks, personalization, and predictive modeling.
What is the world ranking of AI marketing?
There isn't a definitive world ranking of AI marketing as such. It's an evolving field with various players worldwide contributing in different capacities.
How big is the marketing AI market?
The marketing AI market is substantial and growing rapidly. Exact figures would depend on the specific timeframe and source of the data.
How profitable is AI marketing?
AI marketing can significantly boost profitability by improving efficiency, optimizing marketing spend, increasing customer conversion and retention, and enabling more personalized marketing.
Who owns AI marketing?
AI marketing isn't owned by a single entity. Many businesses, from tech giants to startups, offer AI-based marketing solutions. Also, each organization can integrate AI into their marketing strategies.
How many digital marketers use AI?
While exact figures aren't available, an increasing number of digital marketers are adopting AI for various tasks including data analysis, personalization, content creation, and automation.
What are the advantages of AI in marketing?
AI in marketing offers numerous advantages, such as personalized customer experiences, efficient data analysis, predictive modeling, automation of routine tasks, and improved ROI on marketing campaigns.
How many marketing companies use AI?
The number of marketing companies using AI is growing rapidly. While exact figures aren't available, it's becoming increasingly common for marketing companies to integrate AI in some capacity.
Which country uses AI the most?
As of my knowledge cut-off in 2021, the United States was leading in AI adoption, followed by countries like China, Canada, and several European nations. The landscape, however, is continuously evolving.